ABOUT DOUBLETAKE MARKETING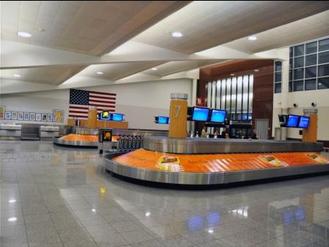 Founded in 2006, DoubleTake Marketing is the exclusive provider of the patented AdSpressive Baggage Carousel Advertising system. As the provider for this unique media for all major Airport Advertising Concessionaires in the United States, we are the market leader in creating these dramatic advertising displays.
DoubleTake Marketing produces, installs, inspects and maintains baggage carousel advertising programs in over 75 US markets. Our team of marketing professionals and operations staff are available for consultation, strategy discussion or to answer any questions you might have about including airport advertising, and Baggage Carousel Advertising as part of your next campaign.
ADSPRESSIVE GRAPHICSTM
AdSpressive Graphics are a thick, scuff resistant, vivid printed advertisment that installs on top of existing baggage carousel equipment. Installation requires no mechanical alteration to the baggage carousel equipment, which makes airports very happy - no screwdrivers, wrenches or tools to bring into the airport.
Every day or two, DoubleTake Marketing Operations team are inspecting graphics, cleaning to ensure graphics remain looking great - even during a snowy mid-western winter.
DoubleTake Marketing's Patented advertising system can be installed on Sloped, Flat and Circular baggage carousel equipment.
Multiple layers comprise the patented system. A top layer, which is visibly clear protects the printed image from wear or marks, the middle layer contains the high-quality printed image, and the base layer is a specially formulated adhesive which adheres the graphic to the carousel equipment.